Banaras – the Gate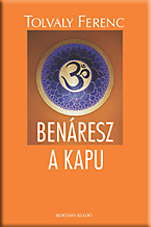 The awakening of the soul – In the novels El Camino – the Road, The soul in Tibet, and Bridge over the Bosporus, opportunities open for protagonists facing existential crises to find through their own journeys the path and a new beginning – through bewildering, life-changing adventures. Banaras – the Gate takes the reader to India, and draws inspiration from the ancient, living, and many-sided religion of Hinduism.
The wife of a man leaves him suddenly, for no apparent reason. He's tormented by doubt, "driven by the meaningless past, the necessities of the present, and the uncertainties of the future." He escapes to India, where, as a photographer manipulating his lenses, he watches, but filtering the pictures through himself, he sees: Before him the secret behind the calm of a people who feel the gods all around them is revealed.
After a while it is not the desperate, betrayed husband, full of self-pity, but a man who is on a road to discovering himself who writes his Indian travel diary. The diary leads to the banks of the sacred Ganges, through cities, villages and deserts of India that appear astonishingly poor and magnificent at the same time – to the gate of the soul.
As his earlier works, Banaras – the Gate is a great pilgrimage to be experienced through reading, a pilgrimage that offers a process of self-knowledge and purification.